Process Server Battle Ground WA Document Service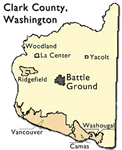 Process Serving in Battle Ground, Washington
$90 dollars so serve anywhere in Battle Ground, WA.
Paralegal Services:206-578-9493
Divorce Document Service Near Battle Ground, WA
Divorce forms and other family law forms prepared. Get help preparing custody and child support documents.
Divorce Form Services for Battle Ground, Vancouver, Woodland, Washougal, and Camas. Family Law and Divorce Documents Prepared.
Battle Ground, Washington Name and Culture
Battle Ground, WA has a population of 20,890. Battle Ground is the social hub of the North Clark County area of over 80,000 people. Battle |Ground has a median household income of $60,644.