Process Server Greenwood WA Document Service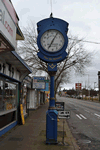 Paralegal Services:206-578-9493
Process Serving in Greenwood of Seattle, Washington
$80 anywhere in the Greenwood area.
Divorce Document Service Near Greenwood, Seattle
Divorce forms and documents are difficult for anyone not experienced in the many ways they can be completed. Let us help you with your divorce, child support, and parenting plan documents.
We do all kinds of family law documents.
Seattle's Greenwood Name and Culture
The neighborhood name was changed to Greenwood from Woodland in 1907. The Greenwood area is built on an old bog that causes poor settling of structures that is not reversible.
Greenwood has some annual events worth seeing, such as a classic car show. Mostly, it is known for specialty shops, coffee houses, bars and restaurants.
Seattle Paralegal Services Greenwood Family Law Document Preparation.