Process Server Vancouver WA Document Service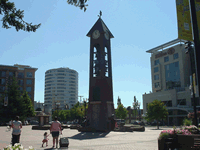 Documents Served:206-578-9493
Process Serving in Vancouver, Washington
Our fee to have documents served on a residence within 5 miles of the Vancouver courthouse is $70. There is an additional charge of $3 per mile for each mile outside of that 5 mile radius. Maximum of two attempts are made.
To have documents served on a place of business is $60 when within a 5 mile radius of the Vancouver Courthouse and an additional $3 per mile outside of that range.
Process serving includes filing a proof of service with the court clerk.
Divorce Document Service Near Vancouver, WA
Forms and documents prepared for divorce and other family law.
Parenting Plan and Child support modification forms prepared too.
Divorce Form Services for Battle Ground, Vancouver, Woodland, Camas, and Washougal. Family Law and Divorce Documents Prepared.
Vancouver, Washington Name and Culture
Vancouver has a median household income of $52,004. Vancouver, WA has a population of 169,982. Portland has a cross state economy with nearby Vancouver.
Vancouver is known historically as a trading post of the Hudson Bay Company at Fort Vancouver. The city was named after the fort, the fort was named for Captain George Vancouver.